Listening to Bible-Based Preaching
is One of the Best Ways to Learn and Grow in the Christian Faith
A sermon enables us to hear God's word.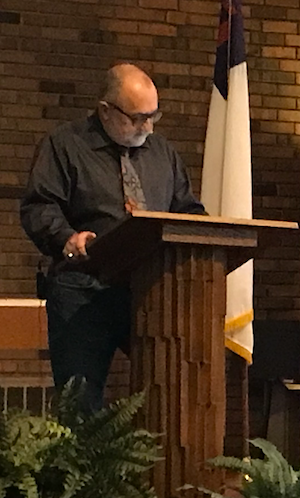 The preaching of God's word . . . is vital to our understanding of God, ourselves, and the world.
His Preaching Journey with You:
On Sunday mornings, we gather as God's people under the proclamation of God's word.  Central to this proclamation is the sermon, by which the message of God's word is preached, delivered to the people.
A sermon enables us to hear God's word.  The Bible states for us that God is the maker and sustainer of all people and all things.  The Bible also tells us of God's heart…his love for his people and his commitment to them.  And from God's word we hear God's commands concerning our attitude and our conduct.  The apostle wrote, "Faith comes by hearing, and hearing by the word of God."
A sermon also allows us to receive the declaration of God's word.  In Scripture God clearly announces to the world that all persons are guilty of sin and are in need of a Savior.  From his word we also find that God has indeed provided for us a Savior in his Son, the Lord Jesus Christ, whose death on the cross was the once-for-all, sufficient sacrifice for sin.  By God's word we know that we receive salvation as we place our faith and trust in Christ.  As the writer of the Psalms reminds us, "God's word is a lamp to our feet and a light to our path."
And with this, preaching then motivates us to respond to the call to serve God's kingdom, to share the good news of salvation through Jesus to the world, and to bless our neighbors in need be it physical, material or spiritual.  In this we follow Christ's words, recorded in Luke's gospel:  "I must preach the good news of the kingdom of God…I was sent for this purpose."
In this world of digital media and artificial intelligence, we hold that the preaching of God's word in the presence of God's people is vital to our understanding of God, ourselves, and our world.
Do you like to listen to AUDIO ?
You can tune in to Pastor Tom Nelson's sermons on SoundCloud right now !
Tap the SoundCloud button below to see all sermons listed by topic !